OPERATORS MUST SUPPORT NEW CIIN PRESIDENT TO SUCCEED – NEWSWATCH TIMES AUGUST 11, 2015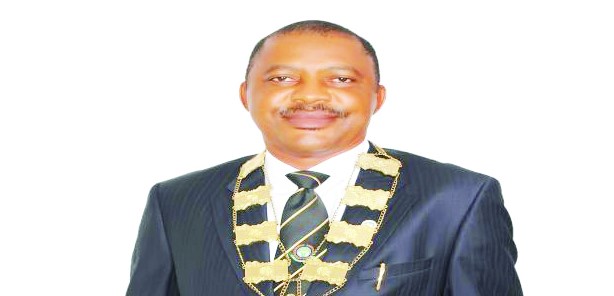 Mr. Bola Temowo is the outgoing President of CIIN. In this interview, he spoke on the personality of Lady Isioma Chukwuma and advised her to live up to expectations.
What will be your advice to the next CIIN President, in terms of project continuity?
When I was coming on board, the theme of my administration was the legacy of continuity. This is because part of the challenges we are facing, as a country, is neglect of the culture of continuity.
The growth of any country or sector is built on the legacy of continuity. A lot of projects I did were actually started by my predecessors. The Centre for Insurance and Management Studies wasn't started by me, it was only commissioned by me. It actually started about five years ago. So, for the centre, credit goes to Sunny Adeda, Wole Adetimehin and FK Lawal as well as Chief Bailey. We also need to appreciate the work did by the previous administration of Ogun State, under Gbenga Daniel.
All I just did is to key in all that is already in place. I will also like to extend appreciation to the insurance industry because we have wonderful supports from corporate bodies and individuals within the industry and to the glory of God, where we are taking it to, and where we are today, without borrowing a dime from any bank, was a sponsorship from corporate bodies and individuals.
Meanwhile, there is nothing I did under my administration that did not include her(Lady Isioma Chukwuma), since she was my deputy then. We worked together as a team and so, credit must also go to her on whatever I may have achieved.
Now, my advice for the incoming president is just to continue to be who she is. Though, she might have new ideas she is bring on board, I know she will embrace the legacy of continuity,
I have had the privilege of having known her for years. We are together in University of Lagos in the 1980's and we have had series of projects together. So, she is a humble, dutiful person and an achiever.
I have no doubt that she will get the kind of support I get because of the person she is. All I will just say to her is to continue to be who she is.
Under your regime, the Insurance Institute Consultative Forum (IICC), a pet project of the insurance industry, started full operation, with the recently concluded mega conference. Moreover, the college of insurance was commissioned, even as there was the distribution of insurance text books to some secondary schools in the country. Looking back to your tenure, how do you feel?
Whatever modest achievement I may have made, I give glory to God for using me. More importantly, I cannot, alone, take the credit for the achievement I may have made because I was able to achieve the feat as a result of cooperation from all arms of the industry.
In the same vein, I have the support of wonderful people in the council as well as within the insurance industry.
The mega conference was an outcome of cooperation, with various arms of the industry ready to work as a team. I was only a beneficiary of that cooperation, because the process actually started before me. It is something that has been in the pipeline for years, but by the grace of God, I was only opportune to witness the byproduct of such initiative.
Unlike before, there seems to be harmony among operators and various associations in the industry. How is the industry able to achieve this?
All the arms of the industry decided to work together as a team. Now, we are getting to realize, unlike before, that together we stand, divided we fall. If we work together as a team, definitely, we believe we will bake a bigger pie. The bigger the pie, the more it is for everybody to share. Working in opposite direction would not help anybody. So, we just decided to work on a common interest, which includes operators and the insuring public.
I think we resolved to come together to resolve our differences in-house and that is the beauty of having IICC, which I do believe, has come to stay. We have issues that were amicably resolved in-house and we are speaking in one voice now. Even when we visited the Vice President of the country in Abuja as a group, he was very happy with the unity among operators in the industry, charging other sectors to emulate this.
Over the last two years, underwriting firms have spent nothing less than N200 million naira on fines. What will you say is responsible for this and what is your advice to insurers to stem this trend?
Let me just say I am a firm believer in the need for regulation, either self or government regulation. If there are no penalties, then, what form of deterrence will you put in place? I just believe penalty is a form of deterrence and I also believe that as the year goes by and operators begin to understand the requirements, the fines would reduce over time. This is just the trying period we are going through as an industry.
On the other hand, I also believe in continuos dialogue between the regulator and the operators, so that once there is an understanding, those gray areas would reduce and the fines would also reduce as we go along. I just believe that what is going on now is because of lack of understanding of the roles of both parties.
This year is a tough year for insurance industry. Do you think the projection for the year is still achievable?
That question would be better answered when the federal government present its financial and economic blueprints. Though, there would be adjustment along the line, but the direction would actually be determined by the government roadmap. I don't know, until we have the economic blueprint.
What future do you foresee for insurance industry in the country?
The insurance industry is likened to a situation whereby you send two marketers to the field to sell shoes. The first one get there and said they sent him to an environment that they don't wear shoes, how do they expect him to sell shoes? The other guy goes there and see opportunity in the fact that the people there don't wear shoes and all he needed to do is to persuade them to wear shoes.
The industry is a case of what do you see? Do you see opportunities there? The insurance industry is still untapped. The penetration level is still very low. That tells me there is a lot of future in this sector. The market is still not saturated and that is why you have a lot of foreign investors coming in. If the opportunities are not there, definitely, money would not be coming in. Money follows where opportunities are abound.
So, what I would always say is that, for the doubting Thomases, there is no better time to get on the trail than now, the future is bright.
Look at the opportunities and let there be transparency and corporate governance in all we do because what we are selling is an intangible product. So, all we can always do is to reassure the stakeholders and when the reassurance is there, they will definitely tap into opportunities therein.
Our readers would want to know who Mr. Bola Temowo is?
Bola Temowo is a Nigerian, proudly Nigerian and proudly second generation insurance practitioner, who has been opportune to lead the insurance industry, and who by divine way, was also deemed fit to have been elected as the chairman of IICC.
Temowo was also divinely favoured and who is wonderfully supported by the people in the industry. I have had wonderful people around me and I give God all the glory.
_________________________________________________________________________
– See more at: http://www.mynewswatchtimesng.com/operators-must-support-new-ciin-president-to-succeed/#sthash.Hdokc857.dpuf